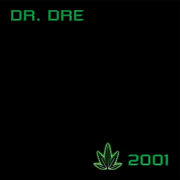 2001 is the second album by American Hip-Hop artist Dr. Dre. 2001 feautures lots of guest apperances including Snoop Dogg, Hittman, Eminem, Xzibit and more. 
Section heading
Edit
Write the first section of your page here.
Track Listing
Edit
1: Lolo (Intro)
2: The Watcher
3: Fuck You (featuring Devin the Dude and Snoop Dogg)
4: Still D.R.E. (featuring Snoop Dogg)
5: Big Ego's (featuring Hittman)
6: Xxplosive (featuring Hittman, Kurupt, Nate Dogg and Six-Two)
7: What's the Difference (featuring Eminem and Xzibit)
8: Bar One (featuring Traci Nelson, Ms. Roq and Eddie Griffin)
9: Light Speed (featuring Hittman)
10: Forgot About Dre (featuring Eminem)
11: The Next Episode (featuring Snoop Dogg, Kurupt and Nate Dogg)
12: Let's Get High (featuring Hittman, Kurupt and Ms. Roq)
13: Bitch Niggaz (featuring Snoop Dogg, Hittman and Six-Two)
14: The Car Bomb (featuring Mel-Man and Charis Henry)
15: Murder Ink (featuring Hittman and Ms. Roq)
16: Ed-Ucation (featuring Eddie Griffin)
17: Some L.A. Niggaz (featuring DeFari, Hittman, Xzibit, Knoc-Turn'al, Time Bomb, King T, MC Ren and Kokane)
18: Pause 4 Porno (featuring Jake Steed)
19: Housewife (featuring Kurupt and Hittman)
20: Ackrite (featuring Hittman)
21: Bang Bang (featuring Knoc-Turn'al and Hittman)
22: The Message (featuring Mary J. Blige and Rell)
Ad blocker interference detected!
Wikia is a free-to-use site that makes money from advertising. We have a modified experience for viewers using ad blockers

Wikia is not accessible if you've made further modifications. Remove the custom ad blocker rule(s) and the page will load as expected.